Landscape and townscape painter; former architect; married; lives and works in Larkhall on the eastern side of Bath; works in charcoal, pastel, watercolour, acrylic and oil; en-pleine sketching; finished studio work. Member of The Pastel Society and currently vice-president; invited artist at various private galleries; work in private collections around world.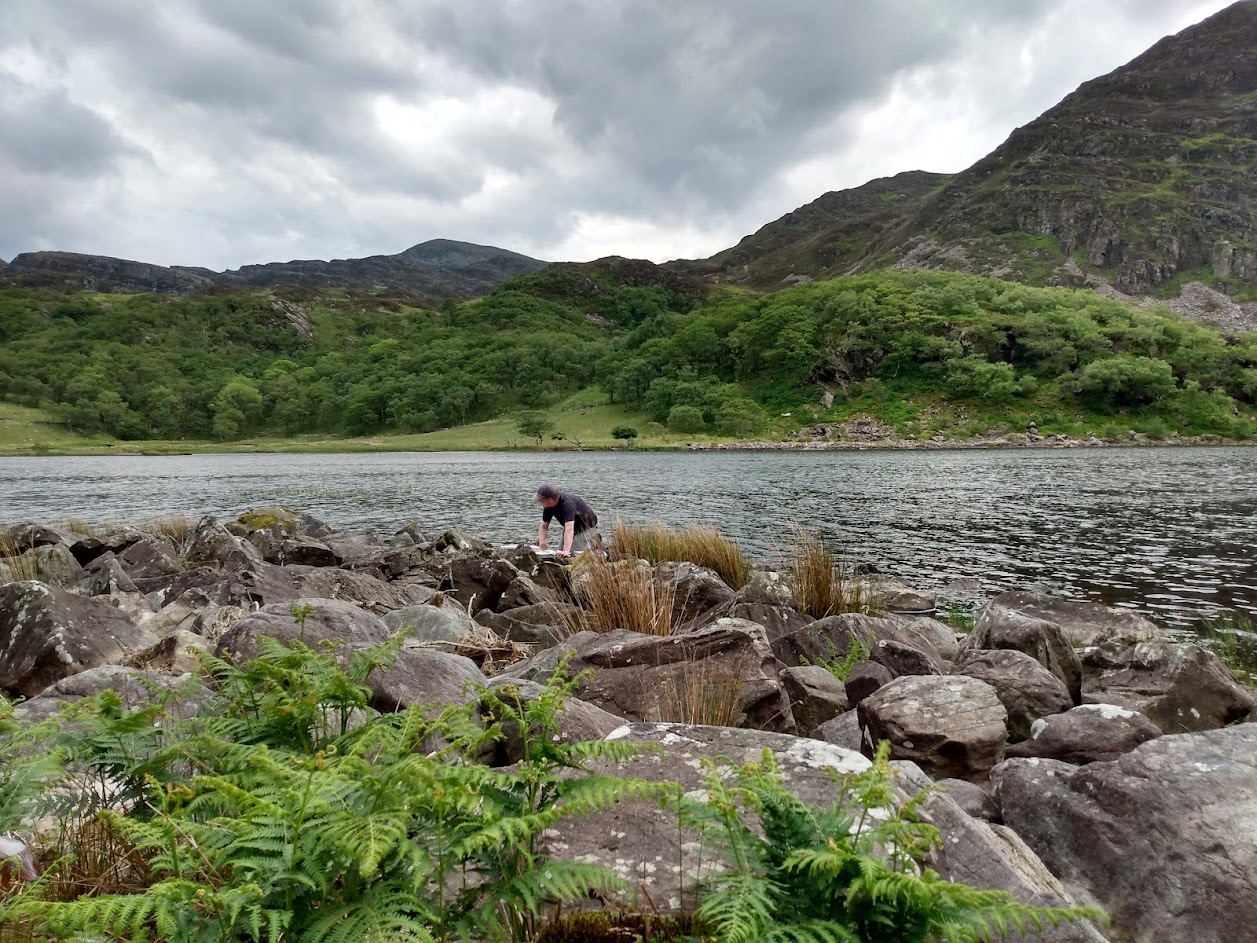 I was born in Mitcham in Surrey and have loved sketching and painting for as long as I can remember. When I was very young I was featured several times in local newspapers sketching at public events and held impromptu sketching classes for friends. Although I considered art schools, I followed my father into the building industry and went to The Welsh School of Architecture in Cardiff. Once qualified as an architect, I worked in London, Bath, Frome, Oxford and Yeovil as both a job architect, associate, Partner and Director. Most of my architectural work was for schools and hospitals but also included small house extensions (including Hillview Studio,) offices, hotels, libraries and a mosque.
I loved architecture most of the time. However, by 1999 the pencil and drawing was becoming much less relevant in my life than was CAD (computer aided design,) management and committees. The result was unnecessary stress as far as I was concerned. So with encouraging comments from my wife and knowledgeable friends in the art world, and with a few false starts, I began a new vocation as a landscape painter.
Apart from the early influences of an enthusiastic art teacher at Wimbledon College and some technical seminars during my architectural course, my own technique is entirely self-taught, constantly visiting art galleries, reading about my 'artistic heroes' and by embracing 'trial and error.' The art work of Roger Dean on album covers was an early inspiration as was the work of J.M.W. Turner which continues to this day. The watercolourists of the 18th & 19th centuries have also been a lasting influence along with The Impressionists. Whilst this covers a wide range of artistic endeavour, my preoccupation lies in the 'impressionist' sketch directly from nature (en-plein air) to the 'impressionist' studio sketch working up an idea and/or composition to finally the finished work, be it impressionist or not. The finished work can often be no more than 'the studio study' but in the end I must be happy that the finished painting reflects the essence of a particular place and time that excited me when I first experienced it. This process of learning is nothing new but simply a reflection of how so many artists learned their craft. I hope I will continue to evolve with the constant aim of capturing a moment in time and place.
Work is always dictated by time, practicalities and mood and therefore my way of working varies. It will usually involve taking memories and sketches (drawings, paintings, photographs) back to the studio but occasionally a piece of work is completed 'en-plein air.' I have no problem with the use of photography as a method of recording information but I do so because time is often too short to do otherwise. The sketchbooks show work done out on the road and in the studio.
Currently I work in pencil, charcoal, pastel (in its many forms), watercolour, acrylic and oil but I also use a mixture of mediums. The City of Bath and Larkhall on my doorstep, are a constant inspiration given the quality of architecture and the light that plays on it but travel, changing seasons and variable weather all give me many sources of material. Thankfully, the main difficulty is choosing what to paint in the limited time available but I also take the time to give different interpretations to some of my favourite subjects.
I am always happy to talk to people interested in seeing how other artists' work but I always emphasise that I do not regard myself as a professional teacher as, selfishly, I just want to paint. However, I am genuinely happy to discuss my approach to painting; to show work at various stages of completion and to simply be open to anyone interested in the painting and how I may be able to help them.
I strongly believe that the most satisfying aspect to art is not the finished painting or even the final sale but the process itself where I lose myself 'in a zone free of outside worries.' It keeps me sane although I accept that a satisfactory finished result and work 'breaks' in my garden also help. Always believing that the next painting will be even better is also very important. Anxiety and depression is something I live with all the time, but work is a distraction that helps to keep me in a happier place.
As for showing my work, I have made it a rule to never make overtures to any gallery but let them approach me if they see something that they like. I know, from first hand experience, that they have many artists approaching them all the time. Early on, I organised my own exhibitions and currently open my studio once a year. I also spend some time submitting work to national exhibitions to reach a wider audience whilst enjoying the on going work with private galleries that invite me to exhibit. To my knowledge, paintings have gone to small private collections in Australia, USA, Europe, Asia and South Africa. Details of the societies & galleries I work with are given elsewhere and for more details about my background up until now, go to my curriculum vitae.
I am one of a group of artists in Larkhall who open up their studio annually during The Larkhall Festival held over the first May Bank Holiday each year. I also open my garden on a garden trail.
I am always happy to answer genuine emails. If you would like to know more or would like to visit my studio at anytime by appointment, just drop me a line to simon@hillviewstudio.co.uk.
All the best,
Simon.
Professional Education
1977-81 Welsh School of Architecture, Cardiff
B.sc Architectural Science 1st Class Honours
B.Arch (Wales) Distinction
1992-1993 West of England University, Bristol
M.Sc Construction Management
Professional Qualifications/Practice/Awards
1978 Winner of Welsh Measured Drawing Competition
1979 Represented Welsh School of Architecture in National Drawing Competition
1979-80 Architectural Practice in Wimbledon. Work on mosques, offices and private houses
1981-82 Architectural Practice in Victoria, London. Work on hotels and private houses
1984 onwards Architects Registration Council of The United Kingdom
1985- 2010 (?) Royal Institute of British Architects
1983-1991 Bath & Frome Architectural Practice (Associate & Partner) Clients included The Royal School, Kingswood School, Monkton School and Park School in Bath; Marlborough College; Clayesmore School; The American Museum, Bath; Norland Nursery Training College, Hungerford and Bath University
1993-1996 Yeovil, Oxford & London Architectural Practice (Associate) Clients included Yeovil Hospital; Musgrove Park Hospital, Taunton and Exeter Hospital
1996 Winner of Open Design Competition for New Glastonbury Library
1996-1999 Private Architectural Practice and modelmaker (Bath) Schools, private houses, commercial and hospital.
2000-2023 Invited artist at Le Corre Gallery, Bradford on Avon. Currently still working with Andre LeCorre.
2009 Highly Commended in Bath Prize Competition, The Octagon, Bath
2010-19 SAA Professional Artist. Artist of The Year winner in The Building Category in 2010.
2010 Highly Commended in Bath Prize Exhibition, The Octagon, Bath
2010 Invited artist at The Bath Gallery, Bath
2010/11 Invited artist at LeFort Gallery, Bath
2011-2016 Overall coordinator of Larkhall Open Studio Trail
2014 Winner of Escoda Barcelona Award for an outstanding landscape at Royal Institute of Painters in Water Colours, The Mall Galleries, London.
2014 onwards- Invited artist at Castle Fine Art, Bath
2015 onwards- Invited artist at Widbrookgrange Hotel, Bradford on Avon
2016 Invited to join Mall Gallery Artist website
2017 Elected to Membership of The Pastel Society
2018 Winner of Derwent Sponsors Award at The Pastel Society, The Mall Galleries, London.
2021 Elected vice president of The Pastel Society UK.
Group Exhibitions
National Children Drawing Competition (London); National Architectural Student Design & Drawing Exhibition (London); Bath Library; Bradford on Avon Library; Royal West of England Academy Open Exhibition (Architecture); Royal West of England Academy Open Exhibition (Art); Le Corre Gallery (Bradford on Avon); Castle Fine Art Gallery (Bath); Sadler Gallery (Wells); First Sight Gallery (Bath); Bath Society Open Exhibition (Victoria Gallery,Bath); No.1 The Royal Crescent Shop(Bath); The Royal Crescent Hotel (Bath); The Theatre Royal (Bath); SAA National Exhibition; The Grant Bradley Gallery (Bristol); The Bath Gallery; The Octagon, Bath; Building of Bath Museum Collection; Larkhall Artists' Winter Show; LeFort Gallery, Bath; The Pastel Society Annual Exhibition (The Mall Galleries, London); Royal Institute of Painters in Water Colours Annual Exhibition (The Mall Galleries, London); The Royal Institute of Oil Painters Annual Exhibition (The Mall Galleries); New English Art Club Annual Exhibition (The Mall Galleries, London); Adrian Hill Fine Art Gallery, Holt (Norfolk); The RAC Club (London); Chapel Arts Gallery (Cheltenham); Thompson's Gallery (Suffolk); Workshop Wales (Pembrokeshire)
Solo Exhibitions
2003 "A Moment in Time" (West Barn, Bradford on Avon)
2004 "In a Different Light" (West Barn, Bradford on Avon)
2005 "Drawing on Bath" (The Theatre Royal, Bath)
2005 "Changing Moods" (West Barn, Bradford on Avon)
2006 "A Further Step" (West Barn, Bradford on Avon)
2007 "All about Bath" (The Theatre Royal, Bath)
2007 "Drawn to Water" (West Barn, Bradford on Avon)
2008 "An Architect's Eye" (West Barn, Bradford on Avon)
2008 "St. Michael's & The City" (St. Michael's Church, Bath)
2009 "A Bath for All Seasons" (The Theatre Royal, Bath)
2009 ongoing- Open Studio at Hillview Studio, Bath
2013 "Larkhall at night" (Larkhall)
2013 "Britain" at LeCorre Gallery
2022/23 Simon B. Hodges PS; exhibition at The Royal Crescent Hotel, Bath.

Private Collections, Commissions, Publishing, Printing and miscellaneous.
Work in private collections in UK, USA, Australia, Denmark, France, Asia, South Africa; 30 charcoal paintings for Rode Manor House; featured in local newspapers and magazines; cards and limited edition prints including No.1, The Royal Crescent, The Theatre Royal, The Royal Pharmaceutical Society and Bradford on Avon Tourist Centre. Personally sponsored local school art competition. Small demonstrations and discussions at The Mall Galleries, during exhibitions and to local art groups.